"The Navajo Nation cordially welcomes you to visit one of the most unique landmarks: the Four Corners. This is the only place in the United States where four states come together at one place:  Arizona, New Mexico, Utah, and Colorado. Here a person can stand in all four states at one time".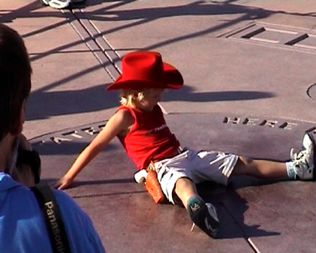 editing
MARIA LAURA SPAGNOLI
photography
WERTHER GERMONDARI
production, direction:
WERTHER GERMONDARI
"La Nazione Navajo vi invita cordialmente a visitare uno dei confini più inusuali, l'unico luogo negli Stati Uniti dove quattro stati (Arizona, New Mexico, Utah e Colorado) si incontrano. Qui una persona può stare in tutti e quattro gli stati nello stesso tempo".
screenings: Luzzara Short Film Festival, Italy, september 2003; Siena Int. Short Film Festival, Italy, nov. 2003; Tekfestival, Rome, Italy, may 2004; Babel Festival, Ostadetheater, Amsterdam, March 2005; Round, Rimini, Italy, may 2006; Tropea Film Festival, Italy, august 2008.