The 70's: a crew is shooting a porn movie in the wood...           
"Riding Hood adaption, (very) loosely based on the Brothers Grimm. A fairytale for adults and definitely not recommended for Sunday afternoon family viewing" (Vienna Indipendent Shorts 2009).                             
A metà degli anni settanta una troupe sta cercando di girare un film porno (un Blue Movie) in un bosco...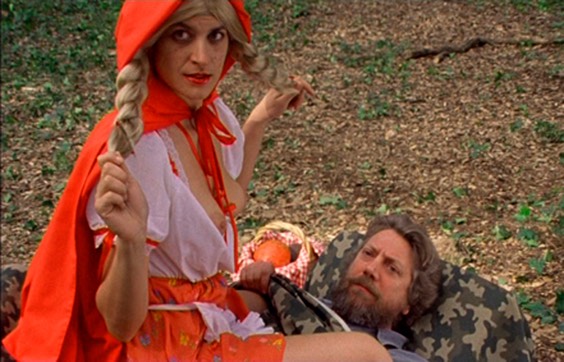 "Questo cortometraggio è interessante perché è una sorta di quello che i francesi chiamano 'mise en abÎme' (messa in abisso). È un cortometraggio che riflette su quelle che sono le modalità e il linguaggio della produzione erotica. Si racconta una storia (una troupe cinematografica sta girando un film pornografico, negli anni 70), ma ad un certo punto c'è uno scarto surreale. Vediamo entrare in campo una presenza che spariglia le carte in tavola e ci induce ad una interpretazione non semplicemente letterale e narrativa, ma anche saggistica, come se questo cortometraggio fosse anche un'analisi sul linguaggio dell'immagine". (Fabio Melelli)
The video is part of the 'Tractatus logico-phileroticus' project.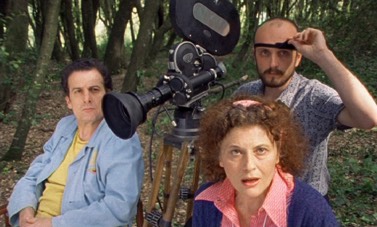 cast  SARITA MARCHESI, PIERO CLEMENTE, ADRIANO GIAMMANCO, RAFFAELLA D'AVELLA, GIANCARLO SGRIGNA, LEONARDO FERRI, WERTHER GERMONDARI
screenplay   WERTHER GERMONDARI 
photography     GIUSEPPE SCHIFANI
editing       MARIA LAURA SPAGNOLI
sound         GABRIELE MARINO
assistant direction    NICOLA VICENTI
art direction, production, direction   WERTHER GERMONDARI   MARIA LAURA SPAGNOLI
screenings: Umbria Film Festival, Montone, Italy, July 2008; 12th Split Film Festival, Croatia, September 2008; Cinemissimo, Amsterdam, The Netherlands, November 2008; Xth WT Os International Film Festival, Norway, November 2008; Stuttgarter Filmwinter, Stuttgart, Germany, January 2009; Rotterdam R-Eject FF, Holland, January 2009; VII Contrometraggi, Terni, Italy, January 2009; Cortisonici, Varese, Italy, March 2009; Vienna Independent Shorts, Austria, May 2009; Round FF, Rimini, Italy, may 2009.; 5.International Short Film Festival Detmold, Germany, 2009; 37. Festival der Nationen, Ebensee, Austria, June 2009; Station5, Venlo, Holland, July 2009; 9th Bunker FF, Ventimiglia, Italy, August 2009; 17.Filmfestival Contravision, Berlin, Germany, September 2009; XII La Boca del Lobo" Festival de Cortometrajes, Madrid, October 2009; V Cortintesta, Frascati, Italy, November 2009; zwergWERK - Oldenburg Short Film Days, Germany, November 2009; 4th International Short Film Festival of Athens Psarokokalo, Greece, February 2010; Strawberry Shorts FF @ Fordham Fest, UK, August 2010; BUT FF, Breda, Holland, September 2010; 12. Internationalen Kurzfilmfest 'Bunter Hund', München, Germany, October 2010; 4th Berlin Porn Film Festival, Germany, October 2010; 28ème Festival Tous Courts, Aix-en-Provence, France, December 2010; Best of Bunker Evening, Rotterdam IFF, January 2011; Waldfilmmern, Vienna ISFF, Austria, September 2011; KAN Film Festival, Wroclaw, Poland, April 2012; Slash Film Festival, Vienna, Austria, september 2012; Armeggiamenti, solo exhibition, Ospizio Giovani Artisti, Roma, Italy, 2013; San Francisco Porn Film Festival, 2022.