Two escaping attempts during the preparation of an italian pasta (macaroni) with tomato souce. Do they regard the same fugitive? That's a reasonable doubt.
Due tentativi di fuga durante la preparazione di un piatto di pasta con il sugo. Sono stati realizzati dal medesimo fuggitivo? E' un ragionevole dubbio.
cast WERTHER GERMONDARI, MACARONE1, MACARONE2 (maybe the same one)
script, production, direction  WERTHER GERMONDARI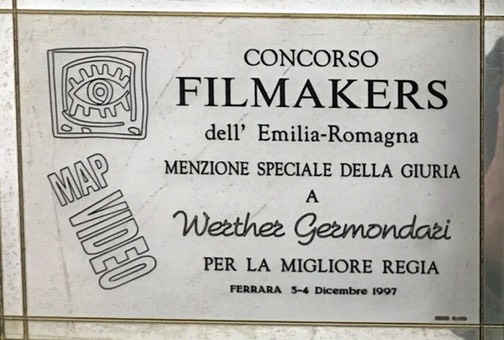 editing  ALESSANDRO CORRADI
sound  ELIO GUALFUCCI
1st assistant director  MARIA LAURA SPAGNOLI
Prizes: Best Direction, "Cinema in Umbria", Umbertide, Italy, 1997; Best Direction, MAP Festival, Ferrara, Italy, december 1997.
Festivals (selection): 1st International Short Film Festival, Siena, Italy, november 1996; 2nd Alpe Adria Cinema, Trieste, Italy, january 1997; Sequenze Labili, Sala 1 Art Gallery, Roma, january 1997; 26th Int. Film Festival, Rotterdam, Holland, february 1997; Cortomiraggi, Perugia, Italy, march 1997; Visioni, Carpi, Italy, april 1997; 30 anni C.G.S., Padova, Italy, may 1997; L'etrange Festival, Paris, France, august 1997; Cortinametraggi, Cortina D'Ampezzo, Italy, september 1997; 19e Festival International, Montpellier, Francia, october 1997; 7° Semana de Cinema Experimental, Madrid, Spain, november 1997; Visioni Italiane, Bologna, dicembre 1997; MAP, Ferrara, Italy, december 1997; 6th Mediterranean Festival of New Filmakers, Larissa, Greece, 1998; OFF2, Fiction Overdose Festival, Roma, Italy, 1998; Mediawave, Inter. Festival of Visual Art, Gyor, Hungary, april 1998; L'ora corta, Roma, Italy, july 1998; II° Unimovie, Pescara, Italy, october 1998; XX °Semana de Cine, San Roque, Spain, January 1999; Festival International du Film, Kelibia, Tunisia, July 1999; II Certamen de Cinema de la Mediterranea, Mallorca, Spain, June 2000; Open Air Filmfest, Weiterstadt, Germany, 2000; Elettroshock, Roma, maggio 2001; V Rassegna Cortometraggi d'autore, Colle Brianza, Italy; Retrospettiva Cinema, IL Villaggio, Lecco, 2001; Hommage a Werther Germondari, Cinémathèque de Nice, France, 2001; Personale video, Round 03, Rimini, 2003; Reggio Film Festival, Reggio Emilia, Italy, may 2004; Tabor Film Festival, Croazia, june 2004; Interfilm, Berlin, Germany, november 2004; Lago Film Fest, Revine Lago, Italy, 2011.