"The Navajo Nation cordially welcomes you to visit one of the most unique landmarks: the Four Corners. This is the only place in the United States where four states come together at one place:  Arizona, New Mexico, Utah, and Colorado. Here a person can stand in all four states at one time".
editing MARIA LAURA SPAGNOLI
photography WERTHER GERMONDARI
production, direction: WERTHER GERMONDARI MARIA LAURA SPAGNOLI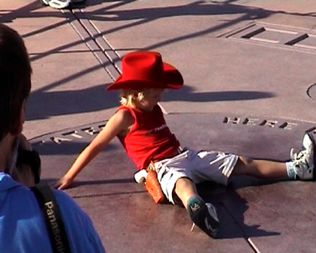 screenings: 
Luzzara Short Film Festival, Italy, september 2003
Siena Int. Short Film Festival, Italy, nov. 2003 Tekfestival, Rome, Italy, may 2004
Il Sole La Luna Fest, Giove, Italy, 2004
Babel Festival, Ostadetheater, Amsterdam, March 2005
XXV Round, Rimini, Italy, may 2006
Tropea Film Festival, Italy, august 2008.